Sweta Chowdhury
Blessed with India's most coveted award, 'India's Achievers' Award - Young Achiever' and also being awarded as 'Top 10 Promising Women in Soft Skills', Sweta Chowdhury, Founder and Chief Trainer at Amrit Asmi Institute of Living Life, a bestselling author, a counselling psychologist and a clinical hypnotherapist, a regression therapist, is a soft skills & life skills trainer. A licensed NLP practitioner, a healer, she is practicing counselling in Guwahati, New Delhi, Mumbai and other places. She conducts training programs all over India.
Amrita Agarwal
Amrita Agarwal is a practicing Counseling Psychologist, Neuro linguistic Practitioner, Certified Angel and Crystal Healer, Advanced Cognitive Hypnotherapy Life Coach and currently a Trainer and Content Developer at Amrit Asmi Institute of Living Life.
Anisha Sheikh
Anisha Sheikh is a Counsellor, Therapist, NLP and TA practitioner, Certified Angel, Crystal Healer and Play therapist.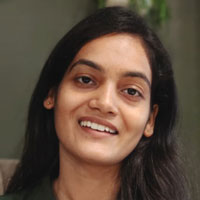 Mourovi Singh
A Psychologist, Cognitive Hypnotic Psychotherapist, Neuro Linguistic Programming Practitioner, a Certified Angel and Crystal Healer.